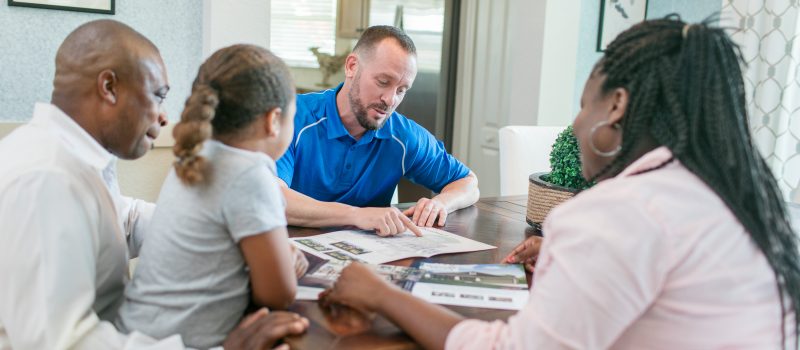 How do I get started? When you visit one of our model centers, our New Home Specialist will probably begin by asking a lot of questions. We want to make sure that we know all there is to know so we can make the best recommendations and offer you the best solutions. If you've owned a home, you are probably aware of what to expect and the steps you'll need to take to secure a home loan. We've made it easy by providing a list of our preferred lenders on our website, along with links to their online mortgage applications. If you would rather talk to someone first, visit a model and our New Home Specialist will gladly help you begin the process.
Once we are able to get an idea of what your financial situation looks like, we can help decide which lender would be best for you. You can apply online, conference call with a lender and your sales person, or even visit a lender's office in person. Once you've submitted a loan application, the lender will ask for several pieces of information. Some of those items include: 1. Last 2 Years of Tax Returns and W2's or 1099's
2. Last 30 Days of Paystubs
3. Last 2 Months of Bank Statements (all pages)
4. Copy of Driver's License (provided at contract)
5. Copy of Social Security Card
While the lender is working on your application, they will send you a pre-qualification (PQ) so you can work with your New Home Specialist to pick out your lot, floor plan, options, colors, and sign a contract.
Once you've signed a contract with Southern Homes, it generally takes 30 days to receive an approval on your loan. This means the lender will be communicating with you requesting additional documentation. It's important to get the information to your lender quickly. Southern Homes won't start your home until we know you'll be approved for financing.
Congratulations your loan is approved! What do I expect next? Until you've signed closing papers and have keys to your beautiful new home, it's important your credit, income, and debts don't change. This means you should not put your new furniture on a credit card, purchase a car, change jobs, etc., before speaking with your lender. If you're not sure, call your lender; they will give you guidance on the "do's" and "don'ts."