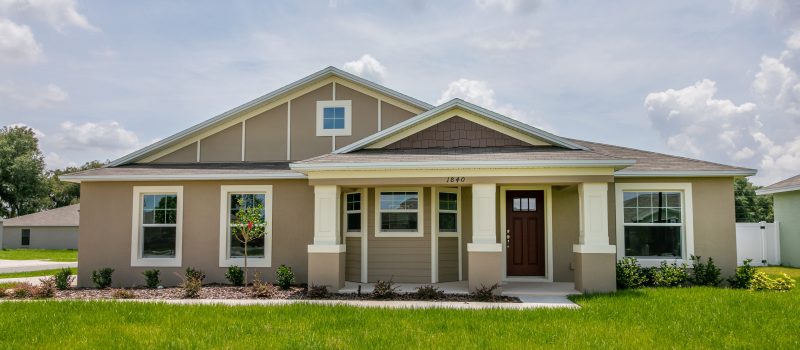 One of the first major decisions homebuyers face is choosing between building a new home or buying an existing home.
Just like with all the other choices you'll make, there isn't one right answer. There's simply what's right for your situation. Here are a few things to consider when mulling over whether to build new or buy resale.
Cost considerations
There are multiple benefits to investing in something new. A new home is just that: completely new. Your home will be filled with components at the start of their lifecycle, meaning you won't have to worry about replacing costly elements like appliances, HVAC systems, water heaters, windows or roofs for years. What's more, most of those components are covered under the builder's warranty (please check with individual builders for more information). When crunching the numbers to compare, be sure to consider potential improvements you may need to make over the years of owning an existing home.
Schedule considerations
The obvious appeal of purchasing an existing home is the ability to move right in, especially if you're relocating for a new job or have kids who need to start school soon. Building a new home means it'll be a few months between signing the contract and receiving the keys to your new home.
If you want to buy a new home but are short on time, we have move-in ready homes in various stages of construction that may work with your timeline.
Modern features
Existing homes were built in a different era with different trends. The layout of the home may not flow the way you'd like. Electrical outlets and closet space may be limited. Perhaps the kitchen is too compact without an option to expand without a pricey remodel. New builds are built to support today's connected lifestyles with plenty of electrical outlets and design trends like open floorplans, expansive kitchens, large owners' suites, and even dedicated home offices.
Energy efficient
New construction homes are more energy-efficient than homes built just a few years ago. There's no comparison when you compare the energy efficiency to homes built over a decade ago! It can be costly to refurbish an existing home to be more energy-efficient.
Location
Location is a key factor when deciding where to live. It has a big impact on your lifestyle, choice of home, quality of life, and even property values. Most new construction homes are built in developing neighborhoods while resale homes are in established neighborhoods. Do you have land you want to build on in an established neighborhood? We can build on your land if it's located within 10 miles of any of our active communities!
Deciding whether to buy an existing home or build a new one will depend on what's best for your family's situation and preferences. We just hope you find the right home for your family. If you decide to build a new home, we hope you'll consider building with Southern Homes. We build in over 20 communities throughout Polk County.
Visit us online at MySouthernHome.com to learn more about our Polk County new home communities and floorplans. We're looking forward to building your dream home.